Gothenburg Public Schools is hiring!

Students: Another chance to get the required physical for free as offered by Gothenburg Health.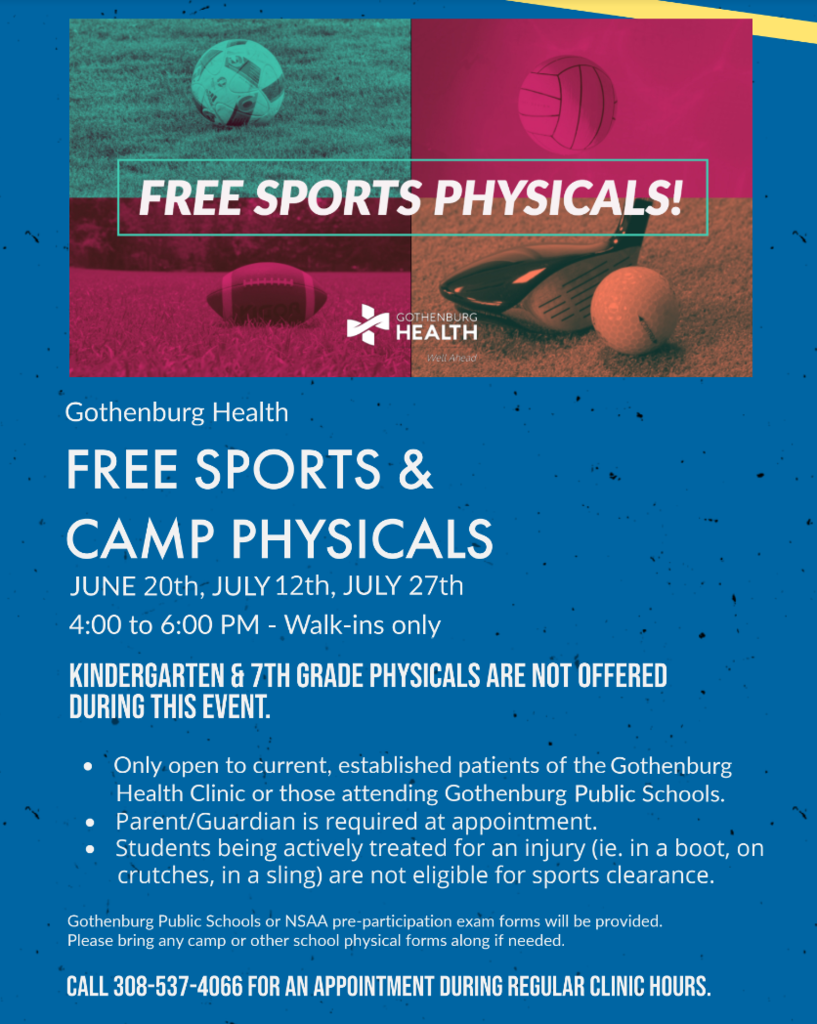 It's about that time!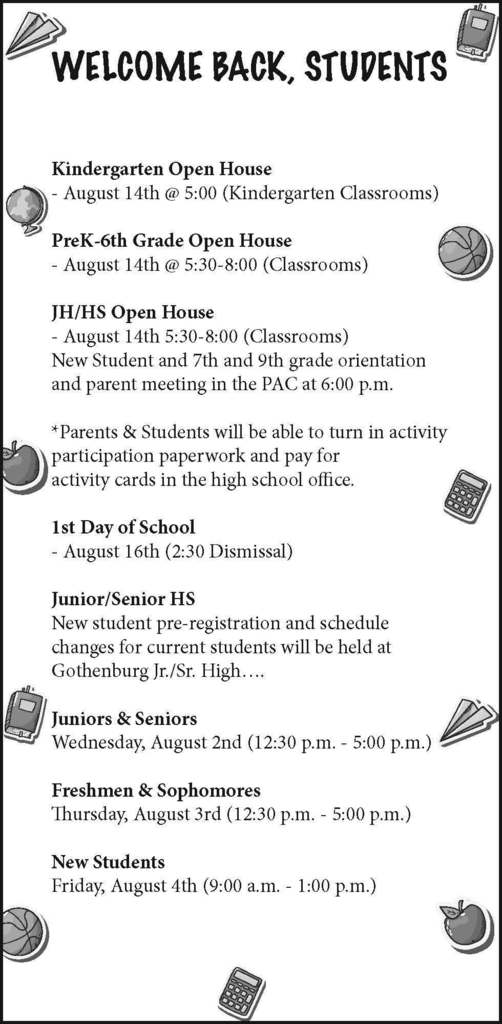 Next week, Kynlee Strauser & Emily Cornwell will represent the Swedes in the NCA All-Star games in Lincoln. Kynlee will play Mon at 6:00 in Basketball and Emily will play Tues at 6:00 in Volleyball. Games will be at North Star HS. Good luck ladies - Congrats for being selected!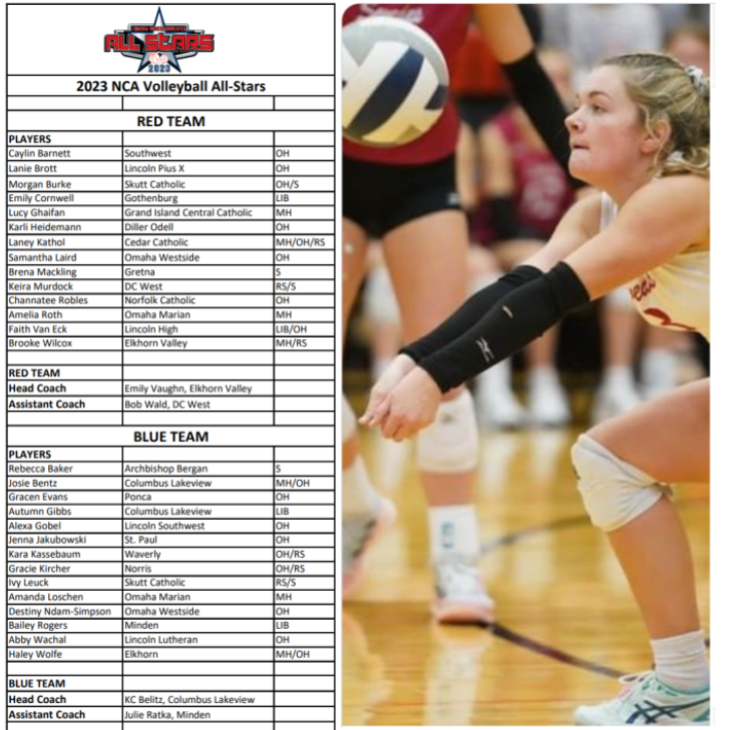 Although the 2023-2024 printed school calendar is not available yet... you can still access the full school calendar on the school's website! Click on "School Calendar" in the top right corner or visit our app and tap on "Events".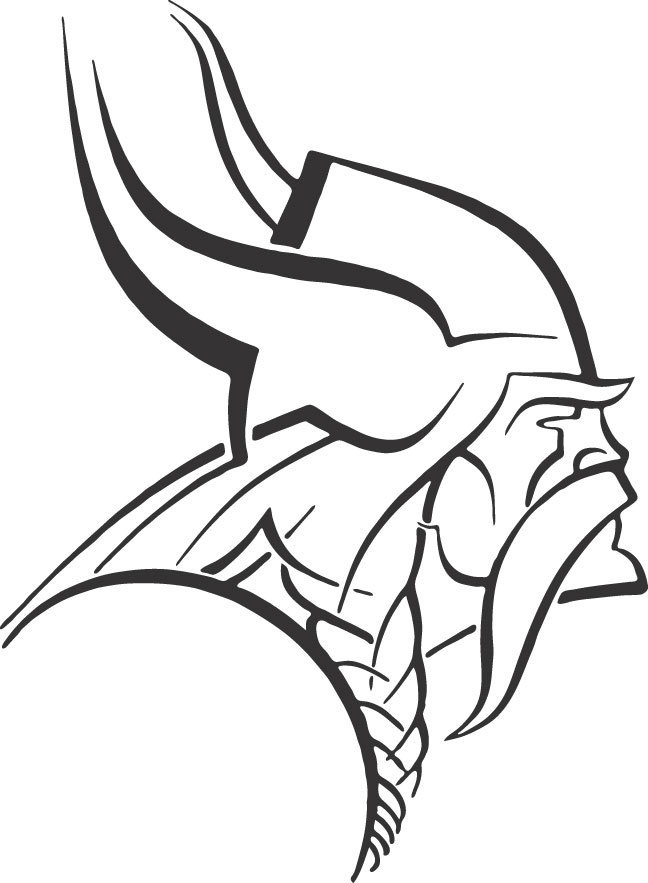 Congrats to our very first child to complete the 1,000 Books BEFORE KINDERGARTEN Challenge! This little guy made a special trip to the Dudley office this week to get a new book and learn that he, along with his family, had accomplished the task! Congratulations Ryker!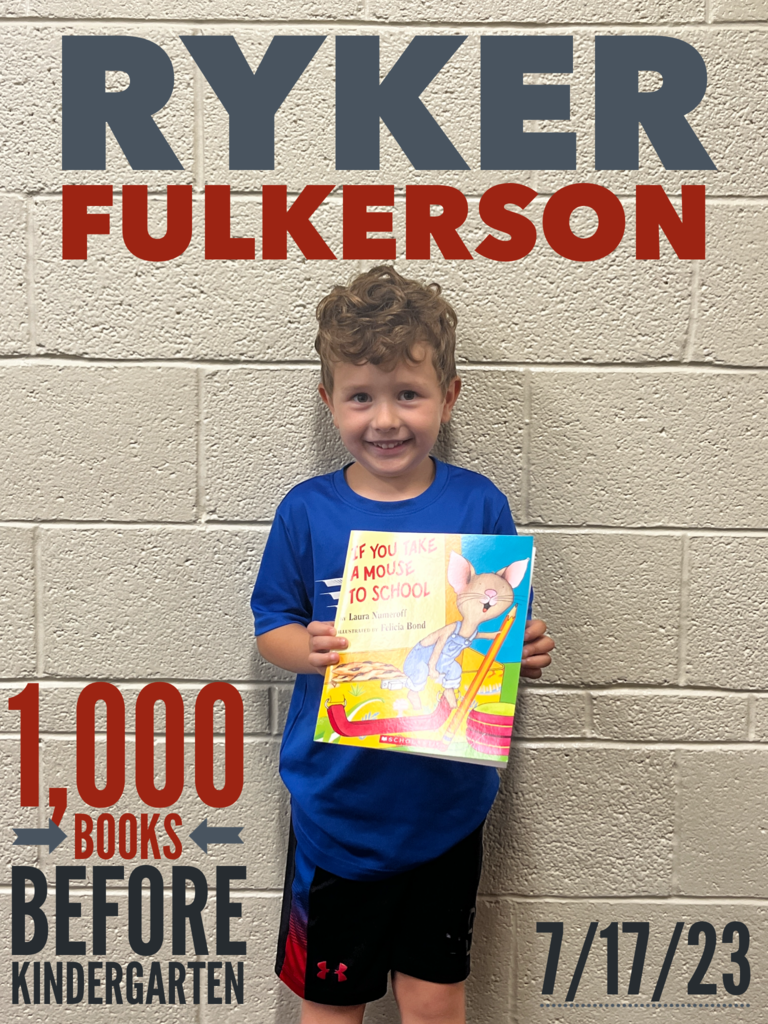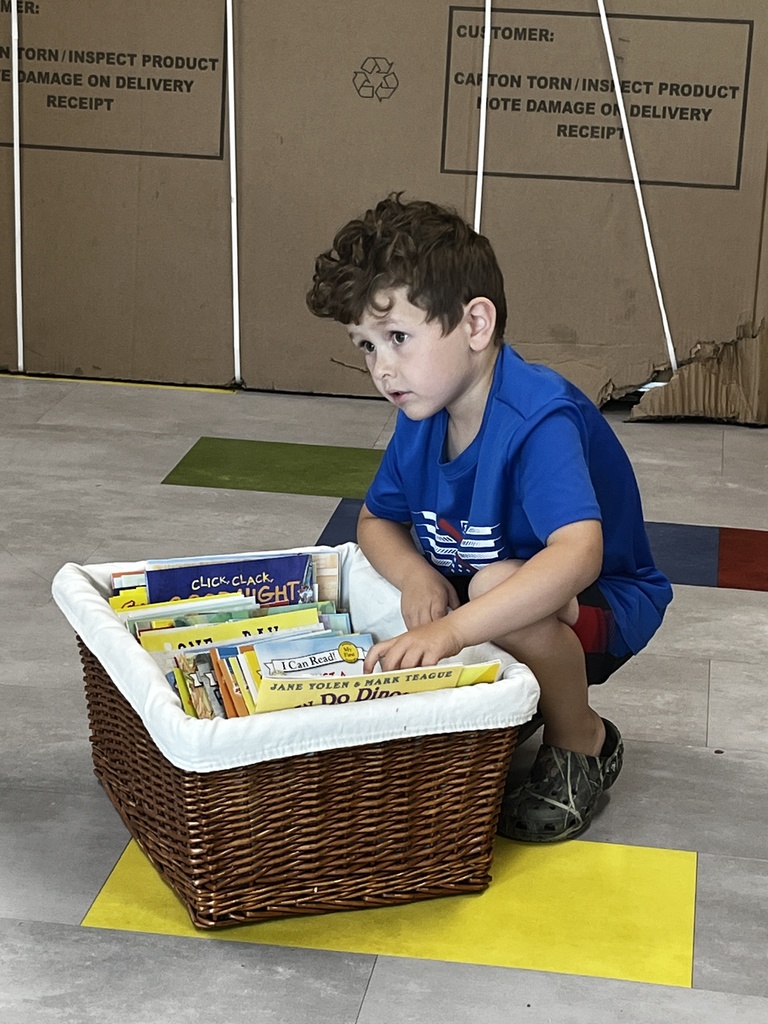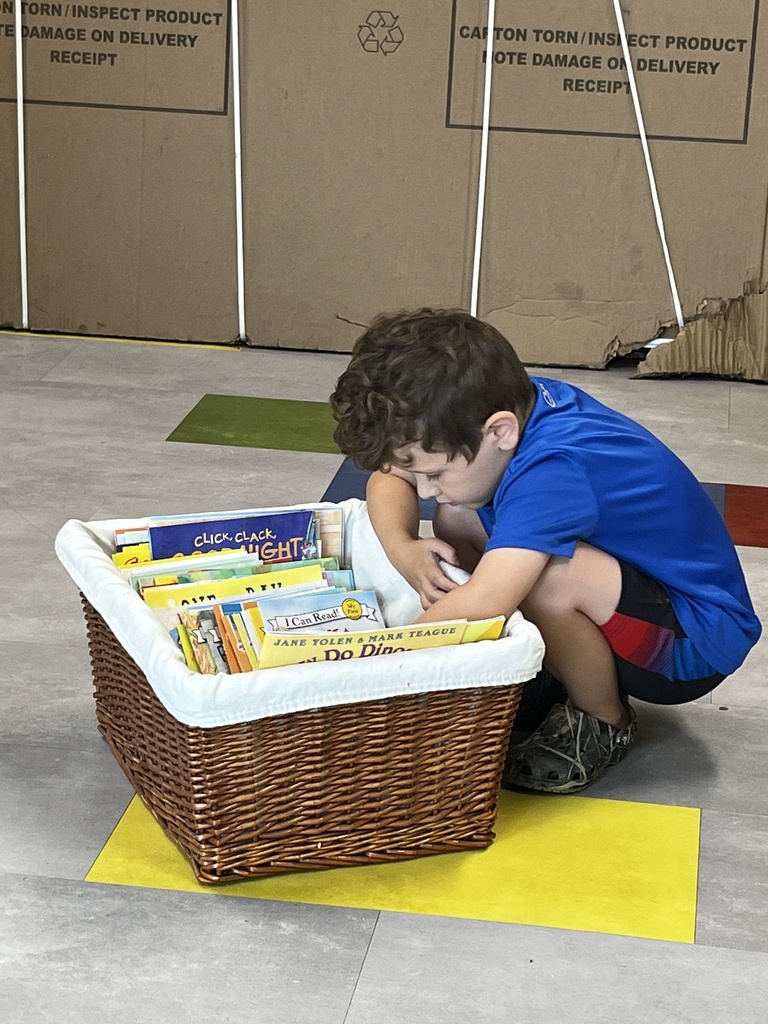 The start of a new school year is coming soon and we hope our Swedes are "READY TO GLOW" which is our theme for 23-24. Check out the link below to get your shirt ordered from Valley Promo as our campaign launches TODAY! Shirts can be ordered until 8/26/23 @ des.valleypromodsco.com.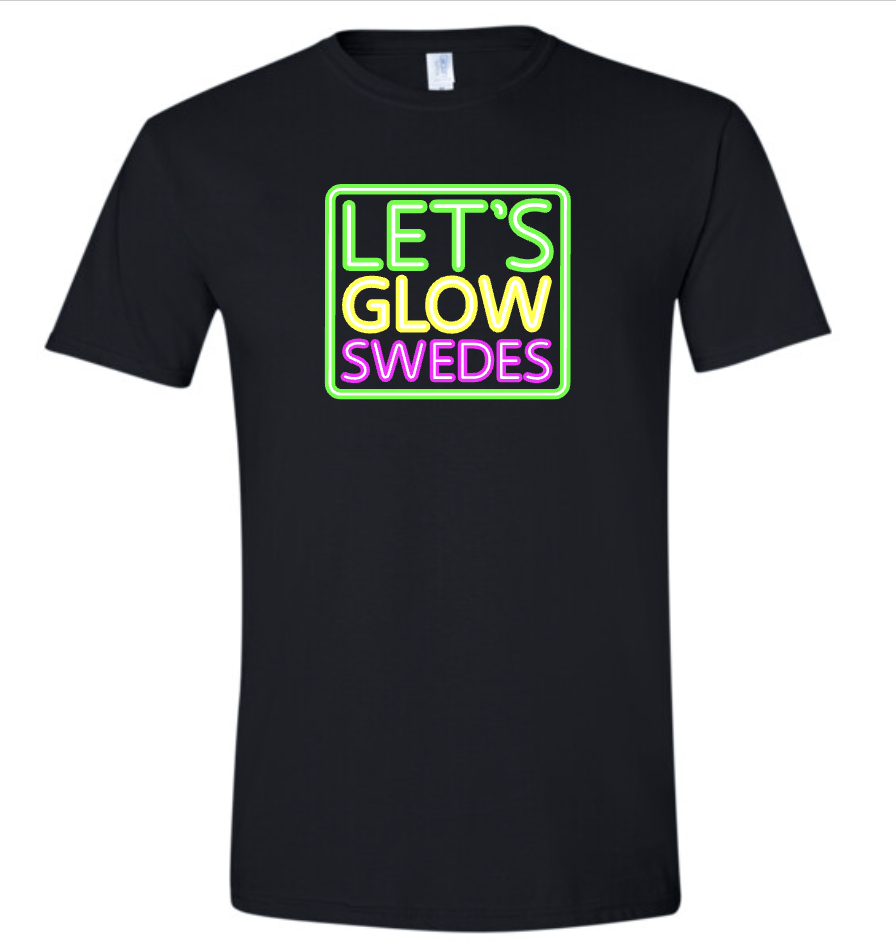 Attention Swedes: On Thurs, August 3rd, in the PAC, we will be having a nutritionist come to Gothenburg High School to talk with our 7-12 athletes and parents. Following her presentation, Mr. Mrozcek will go over some important items for the fall season. Each high school head coach will follow that with their own athlete/parent meeting for their sport. 5:30 P.M.: Nutritionist Speaker 6:30 P.M.: Mr. Mroczek Meeting with Parents/Athletes 6:45 P.M.: Individual Fall Sports Parent/Athlete Meetings -HS Football = PAC -HS Volleyball = Cafeteria -HS Softball = Mr. Dea's Room -Girls Golf = Ms. Clark's Room -Cross Country = HS Media Center Following the meetings, parents/athletes can turn in paperwork, pay for activity cards, and get their PINK slips.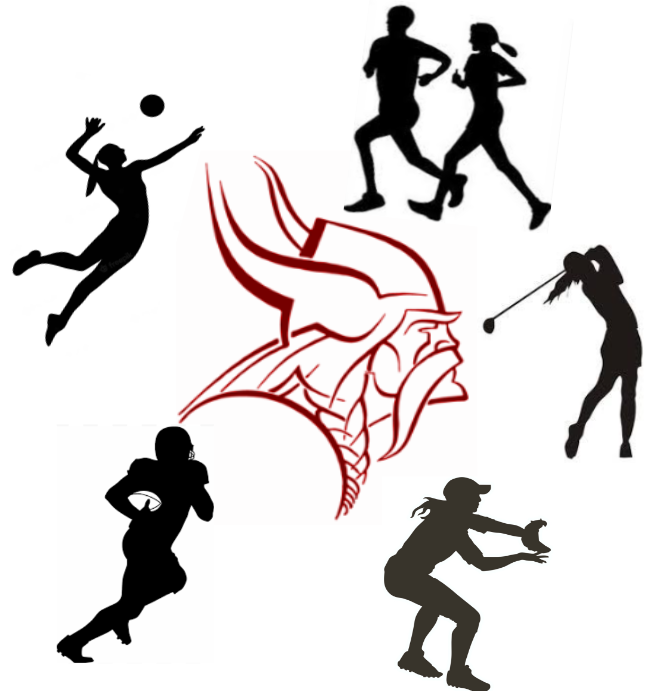 Back-to-School Shopping for Dudley Elementary! As our young Swedes prepare for school, here are the supply lists. Pre-school supply lists will be shared with each parent. Included items are backpack, water bottle and blanket.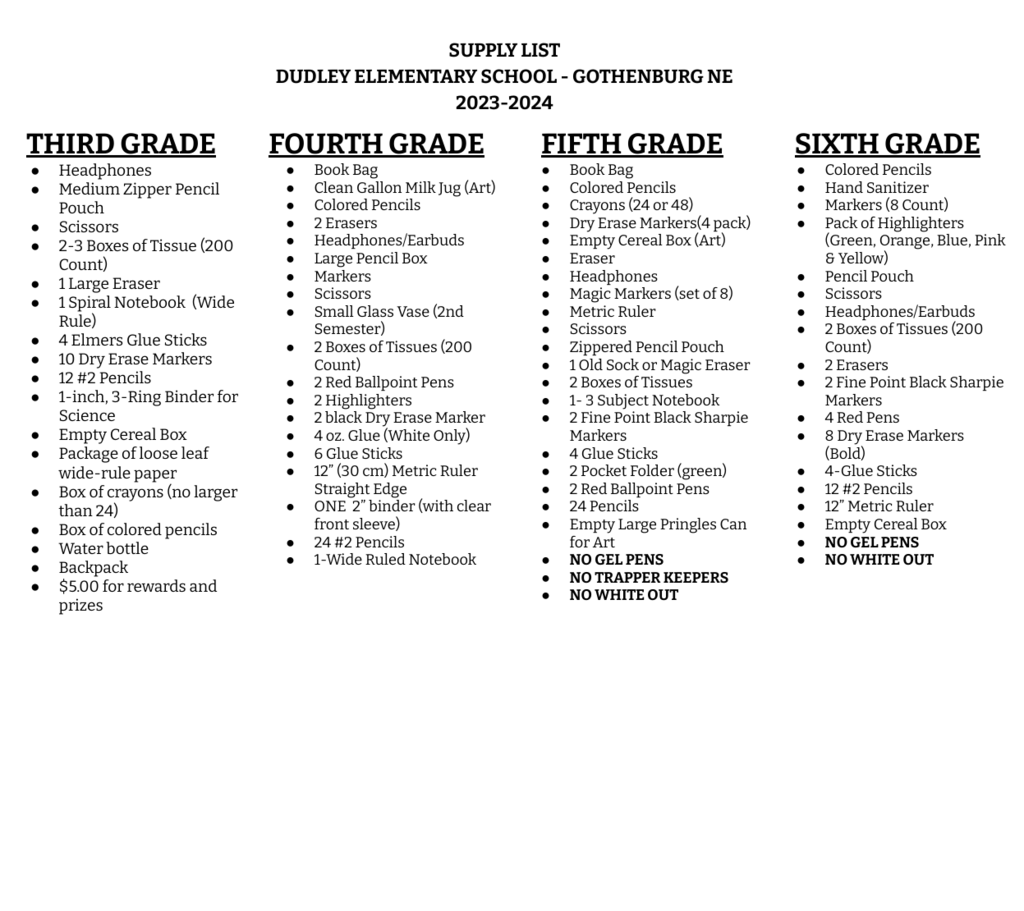 On Aug. 3rd, GPS will host nutritionist Wendi Irlbeck for all 7-12 athletes and their parents. The presentation will take place in the PAC at 5:30. Mark your calendars!! Wendi is going to be speaking about how to build a performance plate and time our meals and snacks for training and competition. She will also be reviewing supplement safety and why it's crucial to consume food first and how to get more quality sleep! As Wendi says, "Nutrition can make a good athlete great or a great athlete good!" -Wendi Irlbeck, MS, RDN, LD, CISSN *Following the speaker, Mr. Mroczek and coaches will have their preseason meetings.

Attention Students & Parents: Attached are the requirements to participate in activities for the 2023/2024 school year. All required Activities participation paperwork is on the table inside the front main doors to the high school. The completed paperwork must be turned in before practices begin. Please make sure everything is filled out (signed) on both sides of papers. Before Aug. 1, forms can be submitted to the district office. After that, they can be turned in to Mrs. Peterson in the H.S. office. Forms can also be turned in during the Fall Sports meeting Aug. 3rd. Go Swedes!!!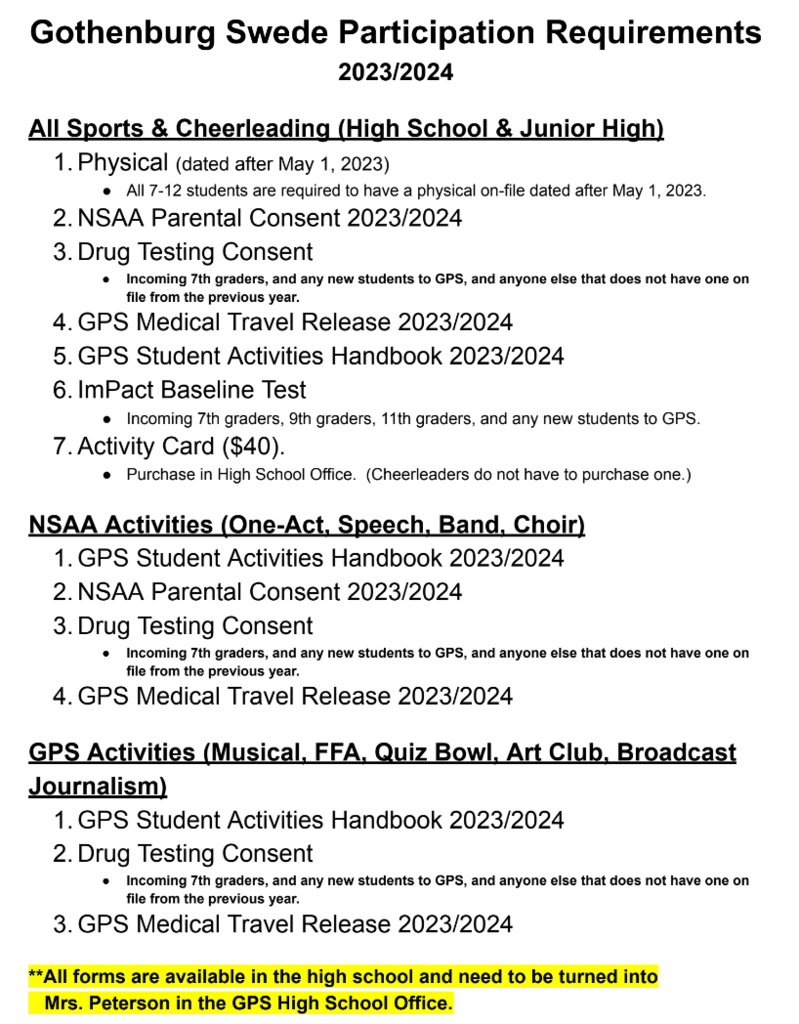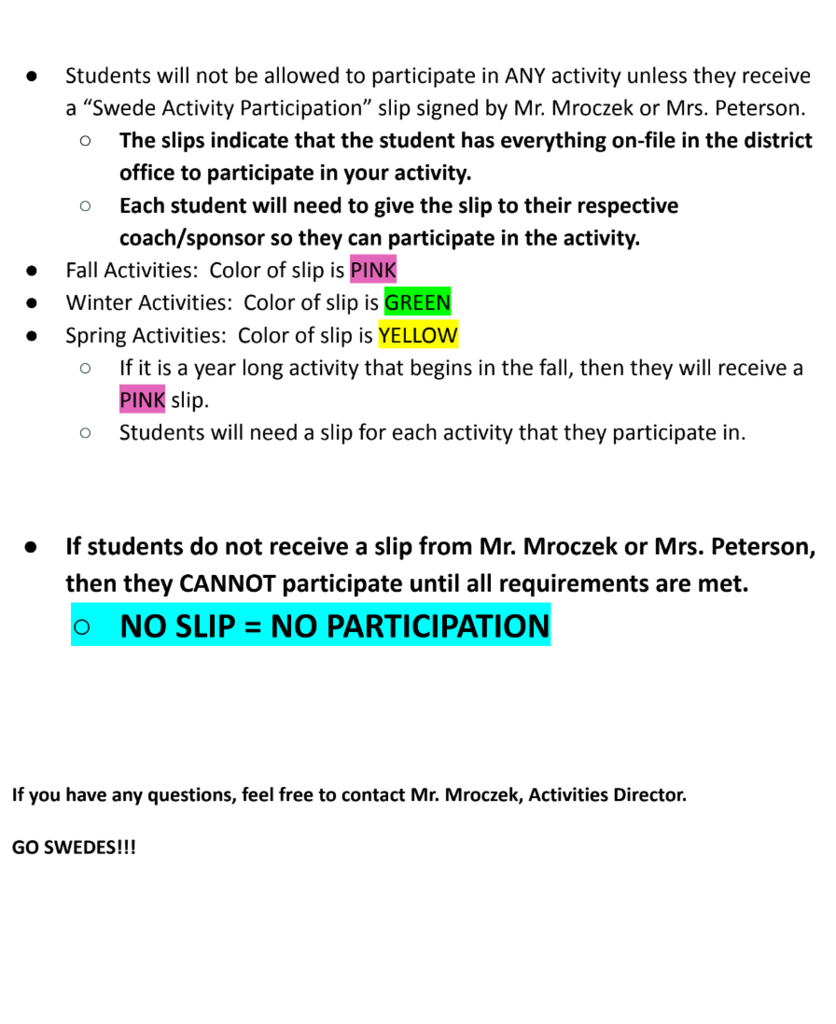 The Elementary Art room is always looking for donations that are typically items that may be thrown away at home. Please check out the list and consider bringing those items to Mrs. Stortenbecker. Our students appreciate your generosity!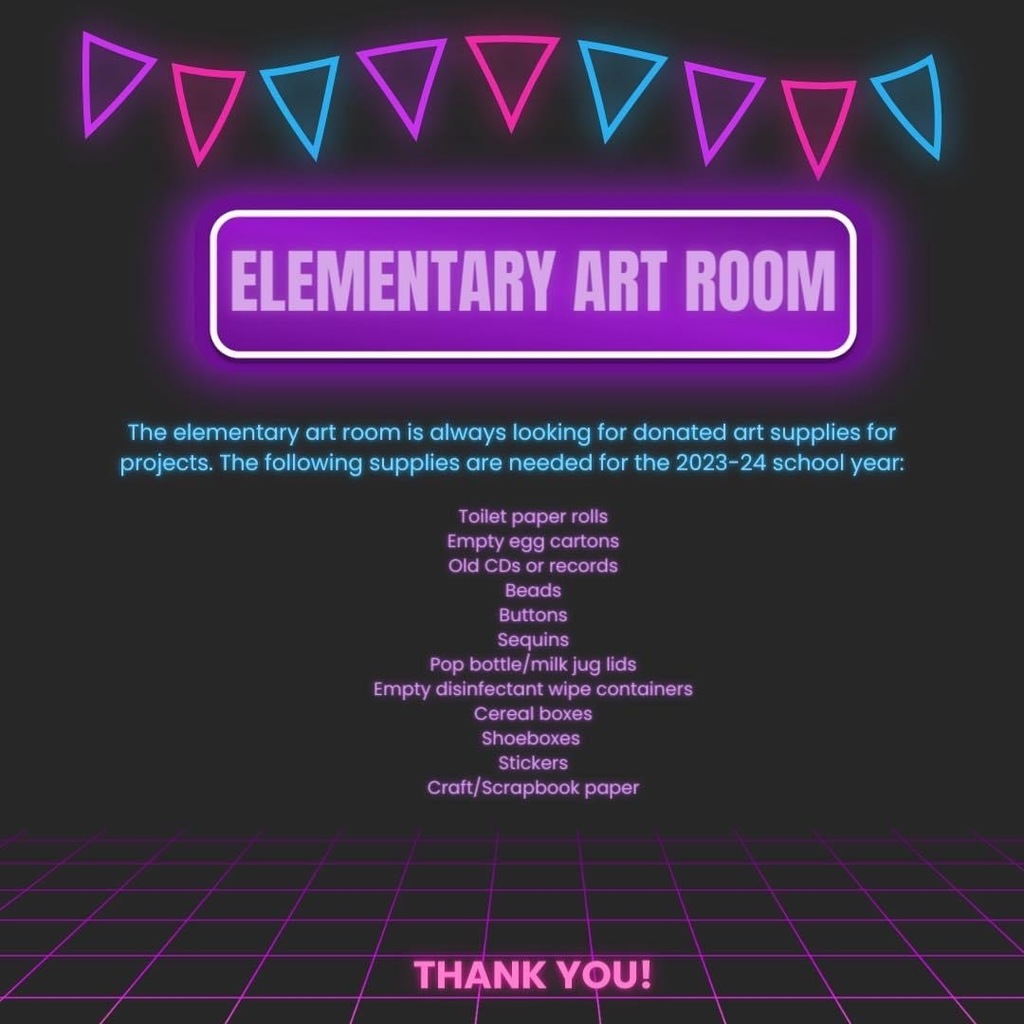 Gothenburg Public Schools is hiring! Call the district office for more information.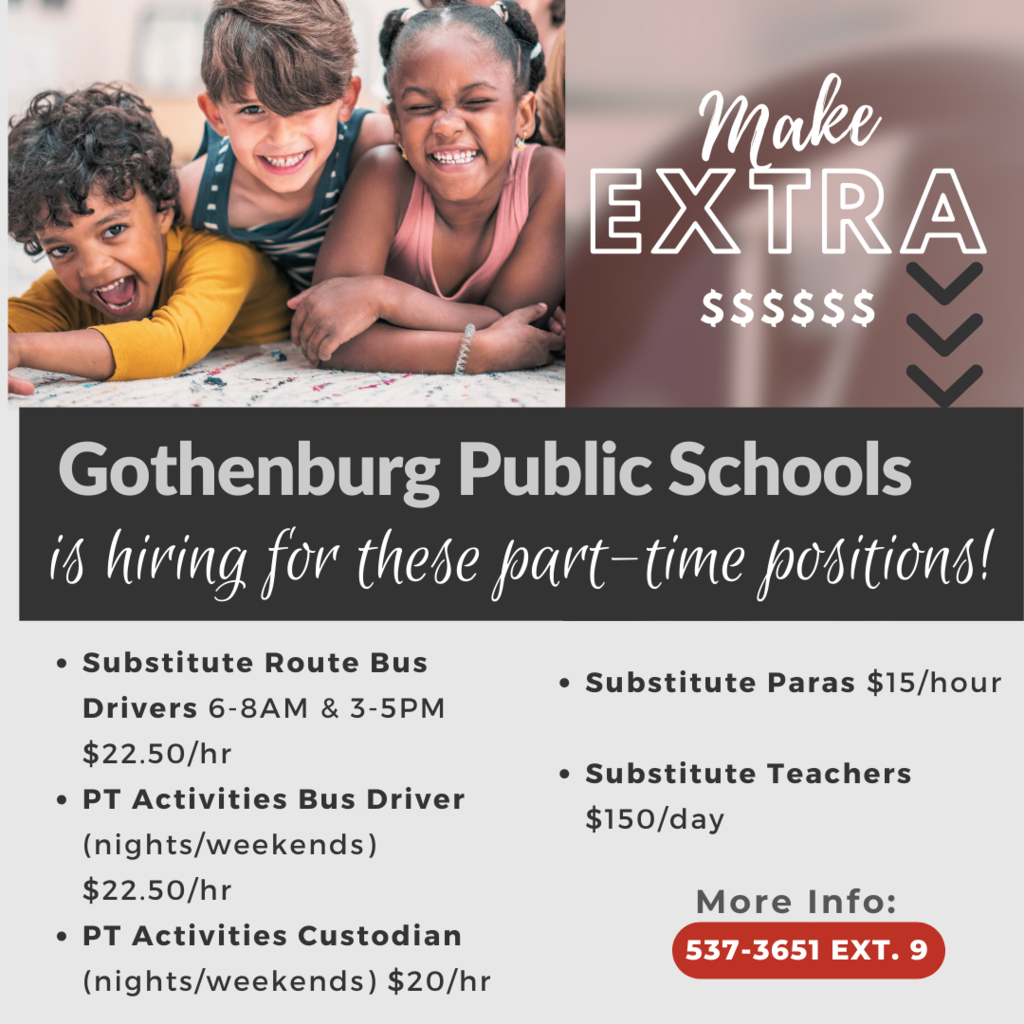 In case you missed it: the Gothenburg Board of Education's regular meeting took place on Monday, July 10th. A recording of the meeting can be found here:
https://bit.ly/3Khaet1

ImPact Baseline Concussion Testing for incoming 7th, 9th & 11th graders, and any new students to GPS is a requirement to participate in any sport for the 2023/2024 school year. The schedule for testing is below. If you have any questions, please contact Mr. Mroczek.
marc.mroczek@goswedes.org
Tues, Aug 1 3:00 P.M.: 11th Grade Girls 3:30 P.M.: 11th Grade Boys Wed, Aug 2 3:00 P.M.: 9th Grade Girls 3:30 P.M.: 9th Grade Boys Thur, Aug 3 2:00 P.M.: 7th Grade Girls 2:30 P.M.: 7th Grade Boys Fri, Aug 4 10:00 A.M.: Any 11th/9th/7th grader/New Students to GPS that didn't make their session.


As your family thinks about school shopping for the 23-24 school year, here are the JR. High Supply lists.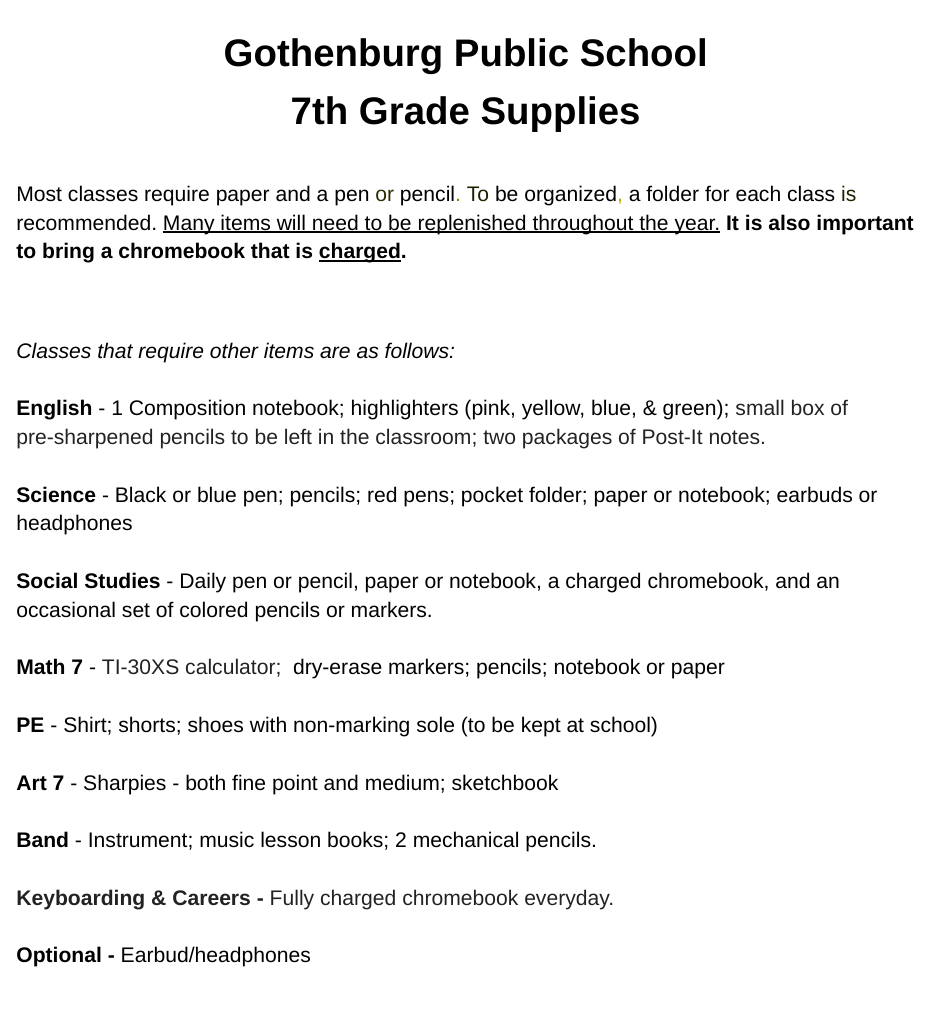 We are excited for Camp Dudley to begin on Monday, July 10th. Teachers have been working hard in preparation for the 2 sessions from 8:00-9:30 & 10:00-11:30. If your child will not be in attendance on a given day, please call 308-537-3651. We are ready to have some fun!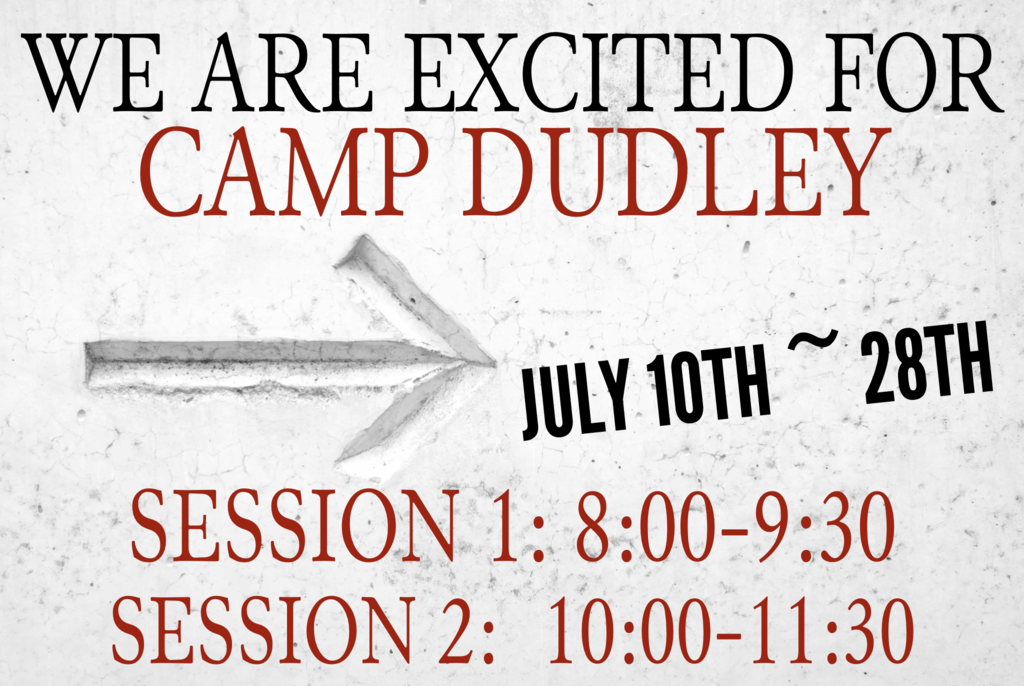 ATTENTION: Incoming Preschool, Kindergarten, and 7th grade students at Gothenburg Public School. All state requirements must be completed prior to the first day of school for your child to begin school. If you have any questions, please contact Mrs. Haas.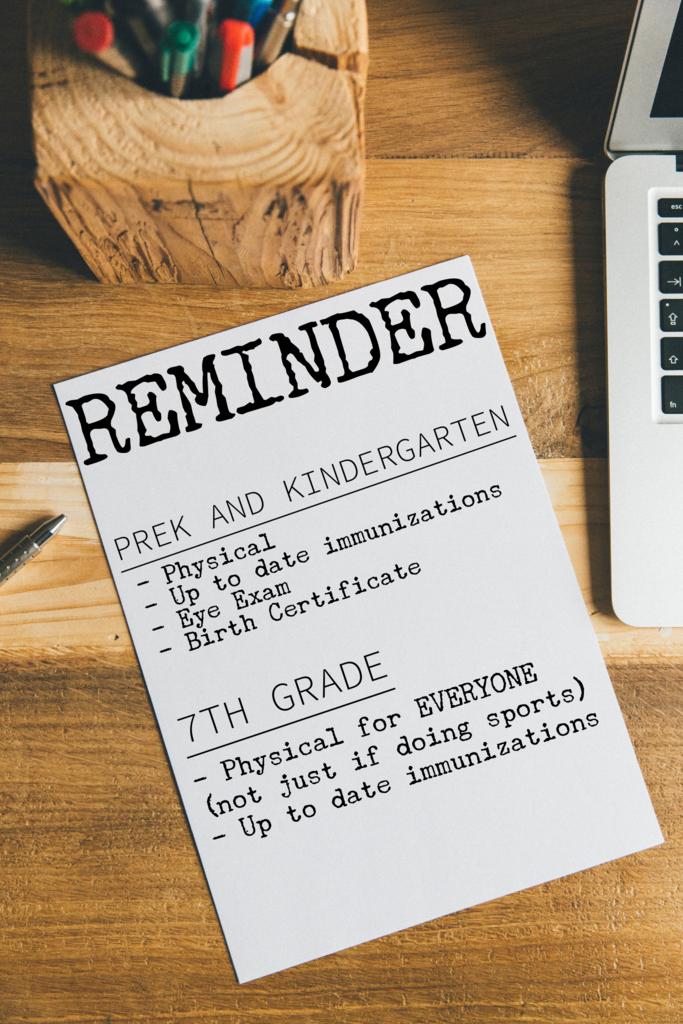 Attention GPS: If you recently received an email stating a school staff member has sent you faxes, please disregard and delete the email. This is SPAM.